Cuba Holiday | My Trip to Cuba | 17 Days of Adventure and Fun
---
Cuba is an island located in the Caribbean Sea which I always wanted to visit. If you are interested in going on a holiday to Cuba, but first you want to find out how others have done it, then this blog post is for you.
It must have been 2 am when I fell asleep. The plan was to wake up at 5:30 am and catch the 6:31 am N8 bus from Leytonstone to Oxford Circus, then grab a Victoria Line tube train to Victoria train station in order to take the Gatwick Express train to Gatwick. I did wake up, briefly, at 5:30 am then fell back to sleep. Somehow I managed to wake up at 6:40 am. I knew that the first tube train is leaving Leytonstone at 7:02 am that Sunday. So Plan A was off, plan B was on! Plan B was to catch the Central line tube to Mile End then change to District Line to Victoria Station, then Gatwick Express to the airport. I was out the door in 5 minutes, managed to catch the W16 bus from Elim Pentecostal Church for two stops and arrive at the tube station before they even opened the gate. At Mile End the station was empty. Another Central Lines train is stopping and more people are waiting for the District Line train. The 3rd Central line train arrives but no sign of the District Line train. I decided to board the Central Line, disappointed that I had to go back to my initial plan, Oxford Circus then Victoria Line. I sat down for 3 seconds happy with my decision. The train was about to leave when I saw another train approaching. It was risky, it could have been the Hammersmith and City Line Train and not The District Line. Anyway, I grabbed my bags and jumped off the Central Line. Luckily it was a District Line train to Wimbledon. Perfect!
The train arrived at Aldersgate East station and a voice was coming out of the loudspeakers. The conductor said that because of a signal failure on the other line our train had to wait. The seconds became minutes. The more minutes were passing the more I was thinking why I did I have to get off the Central Line? Another traffic update, the same message. I was stuck in Aldersgate East Station. After about 5 min I decided to go outside the station and find another way to Victoria Station. As I was heading out of the station, the conductor pops his head out of the window and told us that the train is ready to go. I went back into the wagon and continue my journey.
At 7:45 am I arrived at Victoria Station. My train was scheduled to depart at 8 am. I had no ticket and not much time to spare. It was a long line at the ticket office, so I decided to purchase a ticket from the ticket machine. I got my ticket and with only 10 minutes left I was heading towards the train. I wasn't exactly sure to which line, so I asked around and narrow it down to line 13 or 14. At the gate I was told that my ticket was for 8:20 am train service and not the Gatwick Express, but an upgrade was available for £5. Yes, please! I started to panic again, when the person ahead of me seems to take his time to pay for his upgrade. I had 5 minutes left and my train was leaving and the next, slower train, was in 20 minutes. I could not afford to lose this train. I went through the gates and board the train on the platform 13. It was empty. For a few seconds, I thought it must be first class and that's why the wagon was empty. Then I remembered that the lady I asked a few minutes ago was mentioning line 13 and 14, so I jumped off the train and ran to catch the train on line 14. As soon as I stepped into the train the doors closed behind me and the train left the station.
At 8:45 am I was at Gatwick Airport and my flight was scheduled to take off at 10:10 am. I checked in and passed the customs without any problems. On my way to the departure gate I had to go through the duty-free shops, then I remembered that I need a good pair of sunglasses for Cuba. I've started trying one pair after another without being able to decide until the lady in the shop came to rescue me. I told her that I have a hard time deciding which one to buy so she kindly helped me out. The plane took off as scheduled, destination Madrid.
---
Day 1, Havana
The flight was long and uncomfortable. I managed to fall asleep at the beginning of the journey just enough to keep me awake for the rest of the time. They were playing a film on TV, but I had to pay 3 Euro for the headphones so I said no thank you.
The food was surprisingly good.
I played solitaire most of the time, recharging my phone twice. I still couldn't break my 2'15" record. The view of the Caribbean Islands from the plane was breathtaking. The sun was about to set and the clouds were fluffy and perfectly lit.
After a long interview with the customs, I was granted entrance in Cuba and they stamped my passport. Let's hope it's not going to be a problem in case I want to use my USA visa in the next 4 years.
Claiming my luggage was another story. Most of the people from my flight were still waiting for their luggage so I waited, and waited for, and no sign of my luggage on the conveyor belt. After 15 minutes I looked around and found my luggage waiting for me in the middle. Probably somebody was so eager to claim his luggage that picked up mine too.
The first mistake was to go with the first taxi driver that approached me. He asked for 25 CUC to take me to the Hotel in Havana. Considering I was tired and new to Cuba without any CUC on me I didn't want to bargain too much so I accepted. He took me upstairs to the Cadeca to exchange some sterling pounds to CUC. It was closed. Luckily it was another one open on the other side. I was only allowed to exchange £100 and I got a bit short of 160 CUC.
After negotiating down to 23 CUC for the ride I jumped in the car and off we went. The ride didn't last more than 20 minutes.
After arriving at the hotel San Alejandro I took a shower and went out to familiarise myself with the area.
I took some photos and bought one cigar for 2 CUC from a shop nearby. I was about to return to the room when I bumped into Mario and his wife. He became the first friend/tour guide in Havana. I visited his house and met most of his friends. He knew everybody and could do anything, for the right price. Mario stopped a car and negotiated a price so the ride to the disco was 1 CUC for both of us. This was the first time I've been in an old American Corvette.
I paid 3 CUC each to get us in and ordered the first Crystal Beer 1.50 CUC. I smoked two of his cigarettes and drank Crystal Beer in Amalia disco club in Miramar. This is how I found out that I wasn't actually in Havana, I was in Miramar!
As I said, "anything" was possible. If I wanted to smoke something I would have to pay 20 CUC for 3 cigarettes. Very expensive, more expensive than the "grass" in London. A nice Cuban girl would have been around 60 CUC, 50 for her and 10 for the room. I said pas but was good to know. I have arranged to meet Mario the day after at 9 am and gave him 10 CUC, upfront so he can be my personal guide in Old Havana.
Back in my room 226 I put the TV on and browsed the channels. Memories from 14 years ago start pouring in. An old style TV set with lots of static noise on most of the channels. I managed to find a movie and put myself to sleep.
---
Day 2 Havana
The next morning I had breakfast in the hotel's restaurant. Fruits, omelet and ham and cheese sandwich, an orange juice and a coffee with milk. The food was bad but filling.
It was 8:45 am and was making my way to the reception to meet Mario. In the meantime, I was gathering information on how to get to old Havana. The taxi was about 10-15 CUC, remember that I wasn't actually in Havana, I was in Miramar, near Havana.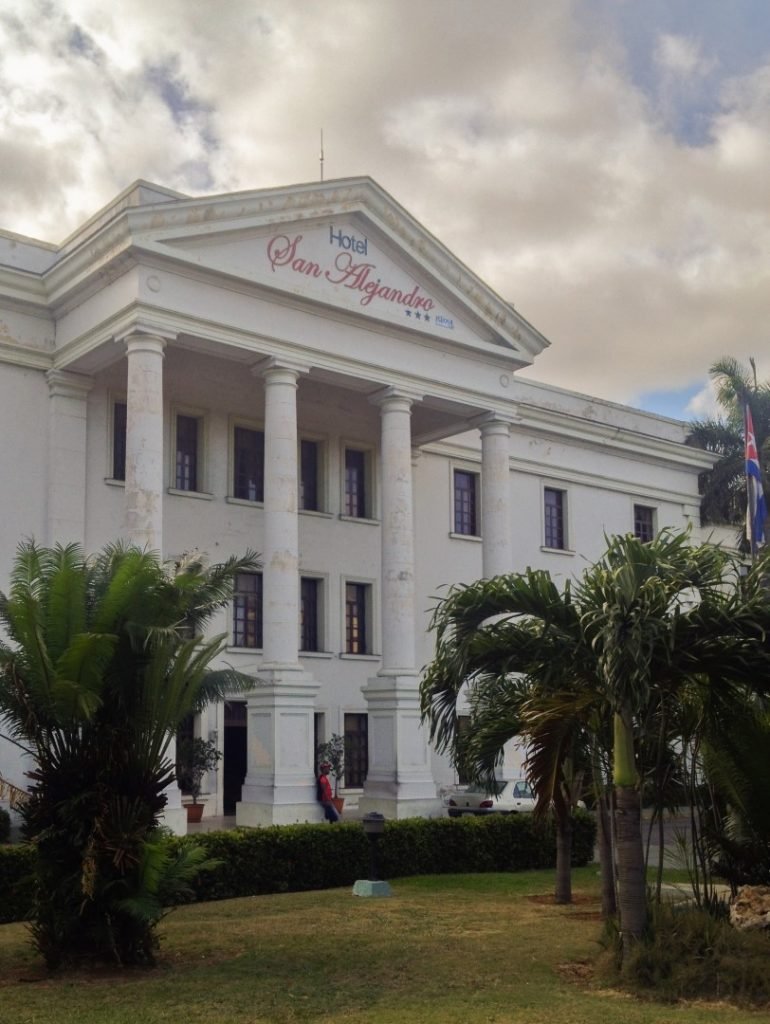 The time was 9:05 am and no sign of Mario. I decided to leave and start my Cuban adventure. I managed to squeeze myself into a crowded local bus without knowing where I'm going. After 30′ on the bus, I checked my location on the map on my iPhone and I was heading in the right direction, towards old Havana. After I crossed the river I decided to get off the bus and go on foot towards the sea through the neighborhood. I was snapping photos at every corner trying to capture the real Cuban way of living.
After 45 minutes I've reached the Malecon and from there I knew that if I follow the road I will eventually reach the Old Havana. I loved how the waves were smashing the seafront and I stopped to capture that moment.
I was halfway there when I met my second friend/ tour guide, Miguel. He offered me a cigar as a gift and we've started talking. It was still a long way ahead and he was heading to old Havana anyway. We stopped for a beer that he paid and I promised I will pay for the Mojito when we'll reach our destination, a restaurant with live music. We stopped at Plaza de la Revolution where Fidel Castro had his famous speech on the 1st of May 1961.
Then he took me to a cigar factory to show me the prices for Cohiba, the cigars that Fidel Castro was smoking. It was 20 CUC for one cigar, but he said his brother works in the factory and he can give me a good price. We went around the block, behind the factory to his brother's house and saw the stuff. He was selling a smaller box with 15 cigars for 50 CUC and the real deal a box with 25 cigars for 100 CUC. Apparently, he was able to seal it with the official stamp so I can take it off the country. I tried to explain that I am at the beginning of my trip and I can't spend that much money on gifts. Was still a long walk to Old Havana so we decided to get a taxi. Like Mario did the other day, he waved and the car stopped. It was 2 CUC this time, one for me one for Miguel.
I started to see a trend and despite the fact that he bought me a beer and gave me a cheap cigar I was planning my exit. I wanted to keep my part of the deal and I bought the Mojito. He was trying to fool me into buying lunch too. That place wasn't the cheapest either. I paid for the Mojito 5 CUC each and left Miguel in the restaurant. I paid him 3 CUC for his trouble, but I told him I would like to continue my adventure alone.
I was finding myself walking through the streets of Havana amazed by the old cars and their way of living.
2 blocks away from the main street, I had my lunch in a privately owned restaurant where they were cooking for the locals and the prices were in CUP. I paid 2 CUC and I got the change in CUP. The food was pretty tasty. Pork with rice and beans. After a long day in Havana, my feet were killing me. I was waking in flip-flops all day and I had blisters everywhere. I decided to go back to the hotel, but I didn't want to pay for the taxi so I took a bus. I knew that P5 will get me home so I took it. I paid 2 CUP for the 1-hour journey. Not bad I would say. I managed through the night with pain in my feet and sunburned arms.
---
Day 3 Havana
The next day I did what Mario and Miguel showed me and what everybody else was doing. I stopped a car, an old Lada, in quite a bad shape but was going to the city and didn't care much where it will take me. Another local woman joined me because she wanted to go the same way. She got off first and she paid 10 CUP. I told the driver that I would like to go to Viazul bus station so he agreed. I paid 1 CUC for the journey, 10 times more than the local woman, but way less than a taxi.
I bought myself a ticket to Varadero for the next day, 10 CUC and on my way out I noticed the zoo right across the road. It was 9:30 am and they said they will open at 10 am. I was prepared to wait 30 minutes. 10 am still closed. More people were waiting. 10:15, nothing. At 10:30 someone came to us and said that they will not open anytime sooner, so full of disappointment I walked away, trying to find my way to Old Havana again.
As I was crossing the street an old Ford had stopped to give way. I asked the driver how much would be to take me to Old Havana. He said, 5 pesos. The first thing that came into my mind was the Cuban lady that paid 10 pesos MN from Miramar to Havana so I assumed that 5 pesos was about the right price considering I was already in Havana, but a few blocks away from Old City Centre.
He dropped me in front of the Capitol building in the heart of Old Havana. I took out 10 MN and hand it to the driver thinking in my head how generous I am. His face…priceless! No no, he said 5 pesos CUC. Pretending that I don't understand what's going on I start arguing and try to lower the price. We agreed I'll pay 3 CUC, but I couldn't find the exact change so I gave him 5 CUC. He thought I gave up and I will pay the asking price, then he was baffled that I am asking for my change. He gave me back 30 CUP, a bit more 1 CUC. That's why it's good to have small change on you all the time!
As I was walking without particular reason I bumped into the Museo del Ron. I had a drink to warm up, then decided to pay 7 CUC to have the tour. It was a 15′ waiting time until the next English speaking tour. Nothing to do, so I ordered another drink at the bar. The tour was interesting and I had the chance to taste the 7 years old Bacardi Rum.
This was my 3rd day in Havana and my CUC was running out. I found a Cadeca and exchanged £100. I got 162 CUC. Then I exchanged 5 CUC into Moneda National for small purchases such as: sandwiches, fruits, cold juices, etc. It was about lunchtime and I was walking down the street and a pretty girl stopped me and starts talking about their menu.
She said the magic words, Lobster and balcony. For 10 CUC I couldn't say no. Obviously, the offer was slightly different when you get on the balcony, but once you get there you can't go back.
I ended up paying 20 CUC for the lunch (12 CUC) 2 Mojitos and Ccrème Brulee Last day in Havana and I was getting bored of trying all the back streets and corners that probably no tourist ever been before.
Going back to the Main Street I found a nice hotel with Internet Cafe. I blocked their toilet. I forgot I shouldn't drop paper inside. Oops. I paid 6 CUC for 1 hour of Internet. In 15 minutes I barely managed to open my Facebook page and post a status that later I found out that didn't go through. The internet was very slow so I was so frustrated that I decided to leave after 15′. I was slowly heading towards the Malecon when I decided to stop for a beer in one of the restaurants with a live band. The music was good, the drink was better. I switched from Krystal beer to Piña Colada. I tipped the band and I was hungry again. With CUP in my pocket, I was aiming for traditional cuisine. I found a pizza place where lots of locals were lining up. I ordered the most expensive pizza in the menu, 45 CUP (2 CUC) without knowing what topping I will get. After a 15 min wait, I get my pizza with chicken and cheese. I said I will have my pizza on the pier, and I did. Watching the waves smashing the rocks and the old cars passing by, all in all, I think I found a good spot. In all fairness, I had better pizzas in my life, but the location was hard to beat.
My only goal that day was to photograph the sunset from the Malecon.
---
Day 4 Havana, Day 1 Varadero
Day 4 in Havana. I had my breakfast, checked out and tried to find my way to Viazul Bus Station. After 15 minutes of trying to stop a car without success one finally stopped and agreed to take me to the bus station for 4 CUC. I couldn't argue the price too much. I have paid the same for less distance so I was more than happy to pay. I've got there with time to spare, I've check-in my luggage and went straight to the market where I got my fish sandwich the other day. This time I got 3, one for them and two for the road.
My bus supposed to depart at 10 am, but for an unknown reason, it didn't. Finally, a replacing bus arrived and I left Havana at 10:50 am. The bus stopped halfway to Varadero for 10 minutes for refreshments and toilet.
I arrived in Varadero after about 3 h and my plan was to find a room for rent close to the bus station. The first try all the rooms were taken. The second try same story, but Ilie, the house owner said he will call somebody else to check for availability. He told me that a relative is having a room and it was only one block away. The room was at the back of the main house, small and dark and the initial asking price was 30 CUC. Obviously, she was more than happy to give it to me for 25 CUC. I said that I am looking for a room with a view so I left. The next thing you do when you have no place to stay is going straight to the beach. The water warm with different shades of blue. It was surreal.
After the well-deserved bath, my quest of finding a place to stay began. I checked the availability at one hotel on the beach and a single bed was 68 CUC. My dream of staying in a room with a view suddenly disappeared. Back to my initial plan to be as close to the bus station. I've started walking down the street away from the beach and more into the residential area. I've spotted a nice clean house with a well-maintained garden so I rang the doorbell. The lady owner, Rachel came to the gate and start talking to me in Spanish. I managed to explain to her that I am looking for a place to stay so she brought his husband, Miguel to talk to me. The first thing I was impressed of was the patio, full of plants and frog ornaments that gave me the first clue that what I will see next will be as good.
At the back of the patio was my room, a purpose-built room with a double bed and a small bar with 3 tall chairs, a fridge, built in wardrobe and air conditioning. The bathroom includes a sink, WC and shower cabin with hot water. It wasn't a lot of space like San Alejandro Hotel, but it had the personal touch that made me feel I'm living in a house, not a hotel room. We agreed for 3 nights, 25 CUC per night with 5 CUC every day for breakfast. If you are interested to stay with them please contact them to make a reservation, I strongly recommend it.
I went back to the beach and after a swim, I decided to walk along the beach and enjoy the sunset. After about a mile I realized that I have to walk back and I was wearing my flip-flops again, and we all know what happen last time I did that. Anyway, I took the risk and put my flip flops on and start walking on the main road. The main street was clean with many shops and facilities that you would expect from any international touristic attraction. A had a medium Pizza at El Rapido and a bottle of water for 3:50 CUC. I bought a bottle of 3 years old Havana Club Rum and some cola to make my own Cuba Libre. Back to my room, I tried the rum then a nap to get myself ready for capturing the first sunset in Varadero.
The best way to end a glorious day was with another glass of rum on the rocks.
---
Day 5, Day 2 in Varadero
I've started my day with the real Cuban breakfast. Two jugs of freshly squeezed guava and watermelon. One toasted ham and cheese sandwich, one omelet with sliced tomatoes, cabbage and gherkin on the side. A proper coffee with milk.
After all this, I took the double deck bus to visit the peninsula. 5 CUC all day, multiple uses, that means I could get off and on the bus as many times I wanted.
The bus took me to the far end of Varadero and on the way back I got off at American Plazza. It was a shopping center with a nice beach. I grabbed a beach chair and made myself comfortable. I noticed that most of the people on the beach had orange wristbands. Apparently, the chairs were to be used only by the guest at the hotel next door.
I was enjoying the beach and water until 12:30 when someone spotted me and kindly asked me to leave if I am not one of their guests. To be honest the sun was too hot anyway so I left. I was hungry too, but I wanted to take some more photos.
After a while, I took the bus to downtown Varadero. I found a Mercado on Cale 44 from where I got my pork and rice for 35 MN and 2 cold guava juices for 1 MN each. Yes, you get a plate with food and a fork and you eat sitting in the shade on a porch or stairs. After you finish don't forget to return the plate and fork.
After beach and lunch, another power nap until 7:20 pm, just in time to catch the second sunset in Varadero. Just beautiful.
After the sunset, I had a piña colada and 1/2 chicken at El Caney restaurant on the beach.
Now was the time for late night entertaining. I went to The Beatles bar-restaurant, where a rock band was singing covers of famous songs. They were very good and the crowd loved them. Obviously, there is a tip involved somewhere during the show but they well deserve it.
I suddenly decided to return to my room and it was the most inspired move I've done so far. As soon as I opened the door it started raining. It rained for 15′, then it stopped. I carried on sipping Cuba Libre and smoking. Yes, I start smoking again after 5 months of "abstinence", because I can't really call it "quitting".
---
Day 6, day 3 in Varadero
Breakfast, beach until 1 pm, then I went to check the time for my bus to Playa Larga, my next destination. I went to the bank and exchanged another £100. After I had lunch in the market, this time I had veal. It was 55 MN plus a guava juice.
I went back home and start chatting with Miguel and Rachel about my next destination. I mentioned Bahia del Cochinos and they recommended me to stay in Playa Larga in the Casa Particular de Pablo and Zenaida. Because I had no other plan I agreed, so Pablo was supposed to wait for me at the bus station to pick me up. That evening I've decided to visit the other part of Varadero. I saw a wedding taking place on the beach. The sun was too high up in the sky and the photographer was probably interested in the number of photos he was taking rather than waiting for the best light. I had to take a few shots myself.
I continued my walk on the beach taking photos from time to time.
I had dinner at the same restaurant on the beach but this time I ordered beef. It was amazing. The best steak I had in a long time. It went down better with a large Mojito.
I was not in the mood for live performance so I decided to go back to my room and sleep.
---
Day 7, day 4 in Varadero, day one in Playa Larga.
In the morning I had the usual then went for a quick dip in the sea. At lunch, I had to go back to the restaurant on the beach to have the same beef steak like the night before. The chef and barman were different and the steak wasn't that great. It was good but not great.
Time to pack up and go to the bus station but before I left I had to take a few more photos.
I slept most of the way to Playa Larga. When we stopped for refreshments I was informed that I have to change the bus in order to go to Playa Larga. It was another 30′ journey.
When I arrived in Playa Larga, Pablo was already there. I jumped in one of the bicycle taxi and I followed Pablo's bicycle.
To my surprise, neither Pablo nor his wife, Zenaida were not speaking any English. Watching telenovelas in my youth finally paid off. Actually, I realized how bad my Spanish is. I think we agreed on the most important things, like the cost of the accommodation (25 CUC), breakfast (5 CUC, dinner (10 CUC), Crystal Beer 1,5 CUC and wine 5 CUC a bottle. Pablo opened a coconut and I drank the juice then he cut open the coconut and mix it with sugar and let me have it.
I met the dogs and the resident crab. Unfortunately, the crab had a bad day, because the dog 'mama' killed it.
Pablo showed me the beach and other local attractions. This was the map of the area but ask at the reception because the time for the bus has changed.
Playa Larga is small, in comparison to Varadero, but is different and I strongly recommend it. You should stay with Pablo and Zenaida and will not regret it. They are so nice and helpful. The house is very close to the beach and the main road toward Playa Giron or Bocca del Guamma.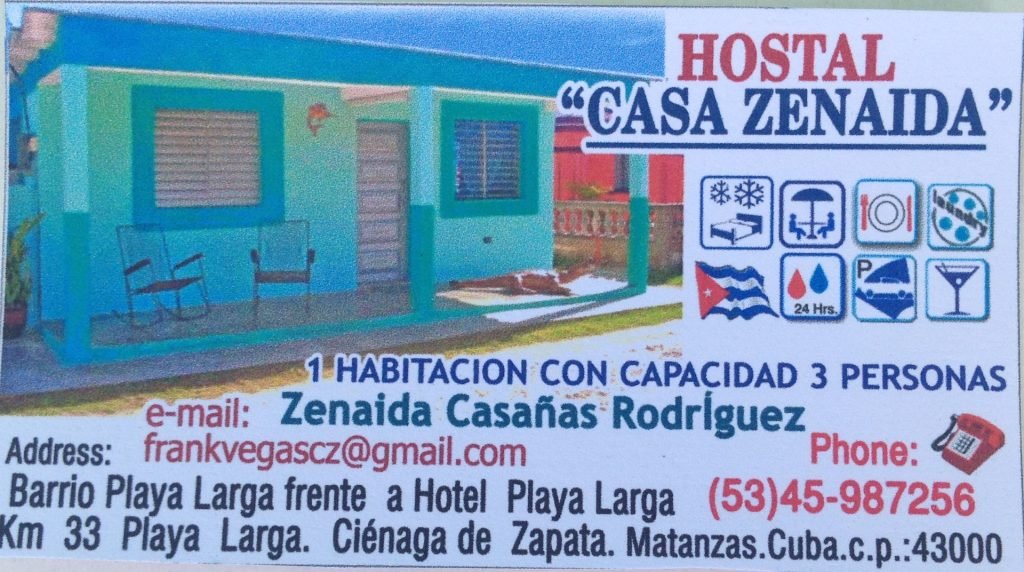 I went for the sunset, but I forgot to change the battery so I didn't spend that much time on the beach.
I went back home, had a Crystal beer and a special dinner with seafood. So far I had to pay 11,5 CUC.
---
Day 8, Playa Larga
First I woke up at 4:30 am when I tried to photograph Milky Way from the porch of the house. It was dark and all sorts of noises. Crabs were climbing on the house walls, one even managed to go inside the house because I left the door slightly closed. Luckily he showed himself out. This is how I knew he got in in the first place. I went back to bed and I woke up at 8 am for breakfast.
After breakfast, I took the bus 3 CUC to see Boca de la Guamna. I paid 10 CUC (1free drink) to get in and I had only 40 minutes to spend there. It was a small zoo and the main attraction was the crocodiles. They also had a trip with the boat on the canal but I was too late for that plus I had no other transportation back other than the taxi for 5 CUC. When I went to claim my free drink I was offered to try the meat of crocodile for 10 CUC. Considering I never had crocodile meat before, it was a must. By the time I watched how the crocodiles are fed, my lunch was ready. I had only 10 minutes to finish my special lunch and head back to the bus.
The next stop was Cave of Fishes, a natural pool with fresh and salt water about 70 feet deep. I rented the snorkel for 5 CUC and jumped into the pool. The water was sometimes cold sometimes warm depending on the type of water I was swimming in. I remember how the sun was filtered by the tree's branches and because it was high above me and behind, it was casting my shadow in the middle, and rays of light were converging into the same spot. Beautiful!
Across the road was the sea. In comparison with Varadero, the light blue was full of dark spots. From experience, I knew what's there so I put my snorkel on and slowly let myself in into the water. The beach was rocky and walking barefoot is not a good idea.
The dark spots were indeed corals and many fish were swimming around. After a long swim, I got myself a reclining chair for 1 CUC and parked it under a tree for the rest of the afternoon.
At 4 pm I got bored of too much sun and water and had a Mojito for 3 CUC across the street at the restaurant near the natural pool.
I finished my drink in 30′ and the minibus supposedly should arrive at 5:30 pm. I decided to get into the first car will take me. One lorry stopped and collected a few locals so I asked if I could join them. He said yes so I jumped in the trunk. It was a similar experience like the double-decker bus but without the chairs and this one was free.
I checked at the reception at Playa Larga hotel what time my bus will arrive the next day toward Trinidad. I stopped for the last Mojito on the beach and realized that I might be a bit short of CUC. This time I didn't pay at the beginning. After deducting all expenses I might be able to afford a ticket to Trinidad, if not I will have to exchange another £100 in the morning. I had no money left for dinner but kindly enough Pablo told me that I could eat with them free of charge. We had fish soup with rice, salad, and French fries.
At 9:30 pm I was already in bed.
---
Day 9 Playa Larga, Day 1 Trinidad
Pablo let me make my own omelet. He showed me how to turn the omelet upside down without breaking it. I showed him that if you put raw rice in the salt container, the rice will absorb the moist and the salt will pass through the holes easily. I had an hour to kill so I took more photos with the crocodile on the porch.
I took another photo with both of them before I took the bus to Trinidad.
Beautiful people! I checked myself in at Casa Mercedes, recommended by Raquel in Varadero. It is very close to the city center and main tourist attractions.
After checking in I went out to find a Cadeca. I've exchanged £300 for 483.85 CUC. Next, I went to Cubatur office and booked myself in for the tour in the Park Gunayara the next day for 55 CUC. I've tried the local cuisine, one pizza 15 CUP an hot-dog 10 CUP, 2 cold juices for 1 CUP each.
I bought a Buccanero beer, but I didn't like it so I left it on top of a garbage bin. By the time I crossed the street it was gone. The city is well conserved and is protected by being part of the Unesco Heritage. Walking in Trinidad at sunset is best. The buildings in the main Plaza are very well presented and photographing the city from the tower of History Museum is 1 CUC.
After wondering the streets of Trinidad I stopped for a bite to eat at a restaurant near the Plaza with a nice balcony. The pork they have on the menu, the way the grandpa used to make it (9.95 CUC) was not as good as expected. Overall the atmosphere was nice and after drinking a piña colada (3 CUC and a Crystal (2.5 CUC) and 1 pack of COHIBA cigarettes (3 CUC) plus tips I left 20 CUC there. The waitress was reminding me of a good friend.
After dinner, not far from the restaurant, two girls caught my attention. One of them seemed to be more interested in me than the other. Her 'attention' was 50 CUC plus 20 CUC for the room in Casa Particular. In case you don't remember in Havana was cheaper. Let's say I wasn't ready, so I moved on. Back to the house I poured myself a glass of Havana Club Rum with ice and went in the rooftop to enjoy my drink. Since the main square wasn't far, I was able to hear the live band singing, until the rain started and it was quiet again.
---
Day 10, Day 2 in Trinidad
I had breakfast at 7:30 am and exchanged a few words with the two German tourists that were about to leave that morning. I told them I'm from Romania and this was the moment when the second one was a bit put off and decided to disengage from the conversation and continue his breakfast until I said that I now live and work in London as an Audio Visual Specialist/ Photographer. The word photographer regained his interest and from that moment the conversation went normally. At 8:30 am the tour guide knocked at my door. We went to pick up Laura and her friend and went up in the Escambray Mountain to Park Guanayara. We stopped for a few photos at 500m above the sea level. One Cuban was holding a tarantula on his palm like a pet.
We continued our journey through the forest and before the waterfall we went into a cave.
We snapped a few photos at the waterfall but the highlight of the tour was swimming in the natural pool and holding my head under the water stream.
Afterward, there was a long walk through the forest admiring the flora and fauna. We've encountered a local that was living in the forest for generations. One of his pet was a giant rat.
We had our lunch at a restaurant up in the mountain and our last stop was the coffee house where I had a nice espresso.
I was back in Trinidad before 3 pm. I was trying to book another tour for the next day, but their office was full of people trying to do the same thing so I had to return. After my beauty sleep, I booked my tour to Cayo Iguana for 45 CUC but I had to report myself to the marina Ancon at 8:45 the next day. I've asked around and a taxi in low season is 6-8 CUC for 14 km. After I had my dinner, consisting of 1 pizza for 25 MN and 2 natural juices for 2MN each.
I've watched the sunset on the balcony of one restaurant sipping a Mojito for 3 CUC.
I've enjoyed more Mojitos at Casa del Musica listening to Cuban music.
---
Day 11, Day 3 in Trinidad
After breakfast, I had to make my way to the Trinidad Marina hoping that my taxi driver didn't forget about me. At 8 am I was out the door and the taxi driver was waiting for me in front of the Cubatur office as arranged. In 30 minutes I was there, and we didn't depart until 9:30 am. Right after the catamaran set sail towards Cayo Iguana. It was the most boring tour ever, no music, just sailing in the distance for 2 hours. I had to put my earbuds in and entertain myself. We finally made it to the beach. After 45 minutes of chasing iguanas and gigantic rats, lunch was served. We had a sort of risotto with seafood and water because the other option was Buccanero, and didn't like it.
After lunch was scheduled a session of snorkeling nearby. The snorkeling at Cueva del Pesce was much better.
The idea of another 2 boring hours was not something I was looking forward to. I've put my music on and found the shade of the sail was trying to move accordingly. I started talking with a senior lady after a while, probably because we were bored to death.
Around 5 pm we were back and I started walking on the beach. Two Argentinian students approached me to help them take their photo. We walked along the beach into the sunset until they went into the sea to take another photo. I asked them if I could take a photo of them with my camera and they kindly agreed. Afterward, I was trying to say something and probably came out wrong, so they left me. I hope I didn't scare them too much. I just wanted to take a photo of them coming out of the water with their head wet, but my Spanish was so poor…
After the taxi dropped me off that morning we agreed for him to come and pick me up at 8 pm because I was planning to shoot the sunset on Playa Ancon, but after a long day in the sun I was tired and wanted to go back to Trinidad. I've negotiated my return for 6 CUC and told the driver to drop me off in front of Cubatur office hoping that I will be able to cancel my 8 pm collection. I did find the guy that arranged the taxi for me that morning but he told me that my driver was already on the way to Playa Ancon to pick me up. Bad luck, because it was 6:30 pm and if he was in Playa Ancon waiting for me that meant that he was either way to desperate, or trying to pick up other clients. I think I did the right thing by letting him know. He mentioned something about paying him up but I was too far and I couldn't hear him well. I took a shower and got myself ready for the last night in Trinidad. I was hungry like a wolf and the sun was about to set. Wandering the streets of Trinidad, I followed a couple that entered one of the restaurants, the Vista Gourmet.
Wow, the view was spectacular and they had an open buffet for starters and deserts if you were ordering the main meal. I looked in their menu and decided for shredded beef. Any main meal was 16.95 CUC. A little bit more than a normal dish but you had the chance to try the other dishes in the buffet. It was a great experience and I would definitely recommend it.
---
Day 12, Day one in Viñales
It's the 1st of May 2014 and all over the world is a national holiday. I had to take the 7:40 am bus to Havana and from there the 2 pm bus to Viñales.
I arrived in Havana at 12:30 pm and booked my ticket for Viñales straight away. I had time to grab something to eat before departure. I remembered the fish sandwich I had in the local market whilst I was in Havana. To my disappointment, the market was closed and I had to find another place to eat. As I was heading back toward the station I've spotted a small local fast food called La Mamma. I sat down and ordered something to eat. To be honest I didn't know what they had in the menu and didn't know how to ask. Somehow I managed to tell the waitress that I would like some pork and chips and a beer.
Before I left I ordered 2 gammon sandwiches for the road. Everything was 125 MN (5 CUC). At 2 pm on the dot, the bus departed with the destination Viñales.
At 5:20 pm I arrived in Viñales. Milaissy was waiting for me with a sign with my name written on it.
We've never met before but her friendliness won me over. She didn't speak any English, I barely could speak Spanish but it wasn't the first time so I followed her lead. Not far from the city center, was her house or Milaissy and Alexander ( Papito)'s house. I was surprised by how clean and modern everything was. Normally the price is 20 CUC but I managed to negotiate 5 nights for 10 CUC per night. Even the animal-shaped towel on the bed. Amazing!
When you come to Vinales you have to stay with Milaissy and Papito. You will have the best time of your life.
I went for a quick look around the city center, booked a tour for the next day and returned to the house.
Milaissy made me the best Mojito ever and we talked about Viñales and surroundings, in Spanish of course.
She made me dinner. I had soup and fish. The presentation was splendid. During dinner, I met her daughter and her husband Alexander. He is a taxi driver. We had a chat on the porch sipping Mojitos and balancing on the chair.
Around 10 pm I went to bed tired after a 9h bus ride but ready for a good night sleep.
---
Day 13, Day 2 in Viñales
The day started with the amazing breakfast prepared by Milaissy at 8 am. At 9 am I was ready for the tour of the valley by bike. I was the only one in the group so I could say that I had a personal guide. The first stop was at the Cueva de Indio. The entrance was free but there was a boat tour through the cave for 5 CUC that I had to try.
My tour guide, Boris, was waiting for me on the other side of the cave. We stopped at a local shop where I bought a sombrero that was more of a headache to keep it on. In the end, I decided to put it in the backpack and revert to my Honda hat I've purchased in Playa Larga.
Our next stop was at the Tobacco farm where I was showed how cigars are made. I bought a pack of 13 cigars for 25 CUC.
Next, we stopped for a Coco Loco, a local drink served in a coconut with honey and rum. It was 3 CUC but with a free rum refill.
After that Boris took me to a lake for a swim but I wasn't in the mood so we moved on. Our next stop was at an ecological farm where I could have served lunch or a refreshing drink, but enjoying the view was enough.
At 2 pm I was back at home, tired and looking for a shower. After a short, relaxing break in bed, I had to put my clothes on and go to the Cadeca to exchange some more money. I put my sombrero on and off I went. The neighbors started shouting, making remarks about my new Cuban look. After I've exchanged £200 I booked my tour for the next day to Cayo Jutias for 20 CUC. After that, I took a Viñales city tour bus to the remaining must-see destinations around Viñales, such as hotel Jasmines, Hotel Ermita, Mural del Prehistoria, a huge colorful painting commissioned by Fidel Castro to be painted on one side of the mountain.
I got off in the same spot where I got on, in the city center, and I paid only 3 CUC because it was only half of the tour and I wasn't intending to go back on that bus that day anyway. As I was passing by the tour agency, the tour operator called me and told me that unfortunately the tour to Cayo Junitas was canceled because of a broken bus, but I could still go to Cayo Levisa for 35 CUC with lunch included, departure at 8:30 am the next day. Sign me in, please! The only thing I was thinking about was the lobster dinner that Milaissy promised me. In the meantime, I was setting up headquarter on the porch in the reclining chair hoping that Milaissy would bring me drinks. I've started with Cuba Libre and the cigar that my friend Miguel gave it to me as a present when we met in Cuba, walking down the Malecon.
For dinner, I had a bean soup and la piece de resistance: Lobster. It was really good.
---
Day 14, Day 3 in Viñales
The day started as usual with a breakfast and at 8:20 am I was ready to go to Cayo Levisa. The tour started with a little bit of water dripping above the driver's seat. Initially, we thought is a broken pipe from the air conditioning system, then it started dripping from a row back. I was in the third row. The persons sitting in front of me moved on the other side. Then it started dripping on that side too. The driver stopped the bus and we all investigated the problem. We found a web backpack with an empty bottle of water inside and we presumed that the same issue was on the other side. After the water stopped dripping we resumed our journey toward the Cayo Levisa. We've got there before 10 am. At 10 we boarded the boat and set sail toward Cayo Levisa, a 30 minutes sail to a remote island that was recently reopened after a few issues to the water installation to the only hotel on the island.
The beach was indeed very nice, probably the best beach I've seen in Cuba. After a short swim, I took my camera and started walking along the beach.
After an open buffet with Ox tail and vegetables, fruits and desert I went for a swim again in the pristine blue water. Then I wandered around the beach trying to capture the beauty of that place. The clouds slowly took over the sky and it started raining. We found shelter in the restaurant, sipping Mojito and watching the rain. This is where I met Vinali, a German girl also traveling alone through Cuba and we shared our experiences in Cuba to that moment and future plans for the stay in Viñales. We decided to go to the disco in a cave, El Palenque, not far from Viñales, so we said that we'll meet at 9 pm in front of the main Church in the city center.
I've got home completely wet, took a nice hot shower and sat in the porch in the chair sipping Mojitos that Milaissy kept on bringing. At 8 pm I had my dinner. In the menu was black beans soup and chicken, as agreed with Milaissy that morning.
After dinner, I went to meet my new German friend so we can go to the disco. The taxi there was 4 CUC. When we got there we were the only ones there. We sat down and ordered the first round of Mojitos.
Shortly the place was full of local people coming to enjoy the Saturday disco. Around midnight we got back to Viñales, by taxi, 3 CUC this time.
---
Day 15, Day 4 Viñales
I woke up around 5 am, turned on the lights to drink some water when I found a big insect, a big wasp with big wings, on the floor. I took my shoe and killed it. I was about to go back to bed when I hear insect noises banging on the flaps of the window trying to get in. Some of them even managed to get through the small gaps between the flaps. The moment they were inside I smacked them with my shoe. I've covered the gap under the door with one of my shirts to stop them from getting in. After a while, the whole procedure became a little bit tedious. Then I realized that must be because the light was on, they're all attracted by it, so the moment I switch off the light the buzzing noises suddenly stopped.
Apparently, they were not dangerous, but if you are afraid of big insects and their noises then this is a bit disturbing. I had my breakfast at 8 am then I decided to go for a little walk around Viñales. The paths I chose to go would have been okay if it wasn't for the rain the night before. After a while of being careful where I step, afraid to not get dirty, I gave up and went straight through the mud.
After a good few hours of wandering through the Silent Valley of Viñales, two farmers and 3 horses were passing by. The father asked me if I am interested to ride one of the horses rather than walk.
Considering I had no particular destination that seemed to be a good idea. After about 45 minutes we reached their house, in the middle of nowhere, with mountains on each side and a vague idea where I was. I gave him 5 CUC for letting me ride his horse. In exchange, he gave me a cigar and made me a Coco Loco for 2 CUC.
After a good 30′ of sipping Coco Loco, smoking cigar and photographing the cat, I decided to say goodbye to my new friends from the middle of nowhere and tried to find a way to the main road. They gave me some pointers but they also mentioned that there is a cave nearby, 500m long and you can actually swim in the water accumulated in one of the rooms. I finally found the cave and paid 2 CUC to get in. My iPhone's torch became suddenly very handy. At the end of the cave, there was a natural pool, 30m long and 1,5 m deep, but I didn't feel like swimming in there.
After leaving the cave I was trying to find the main road. After about one hour of walking without knowing if I am heading to the right direction, I bumped into a few farmers that told me that I'm on the right track and the road is half a kilometer away. From the main road to Viñales were about 3 Km, and I walked and I walked until I've reached the city center where I treated myself with a Pizza Speciale, with surprise ingredients. Considering that was the most expensive pizza they had I ordered one for 7 CUC and 1 Mojito for 2.90 CUC.
The pizza was pretty good, better than the ones I bought on the streets of Havana or Trinidad, but the price was different too. After the afternoon nap, I went to the tour agency to check if any other people were signing up for the Cave of San Thomas and Cayo Jutias tour. Unfortunately, nobody signed up so I decided to pay the full price to see the cave and to go to the beach for the last time in Cuba. I paid 50 CUC for the taxi and entrance to the cave. The sun was about to go down behind the peaks around Viñales so I decided to walk all the way to the Hotel Ermita situated on the top of the hill. The view was indeed spectacular.
At 8:15 pm I had dinner at one of Milaissy's neighbor. The dinner was abundant and the Mojito was good too.
After dinner, I sat on the roof of the house to watch the stars and listen to music.
---
Day 16, Day 5 in Viñales
Again I woke up early to drink some water. It was around 4:15 am. I went out on the roof again because the Milky Way was up in the sky and it was easier to capture in the photo. After I've captured a fairly decent shot of the Milky Way I decided to try the preset on my camera that allows me to over impose long exposures for one hour. I set up the camera and went back to bed and set up my timer to wake me up in case I fall asleep. This is the end result, remember all done in camera.
I went back to bed in order to wake up again for breakfast at 7:45 am. After breakfast, I was ready for the tour of the Cave Santos Tomas. The tour was 1h30′ long and the entrance was 19 CUC, which I paid when I booked my tour. The cave was impressive. A must see!
After the tour of the cave, it was time for the beach. Depending on the driver, and the driver was a bit old fashioned, he was saving some fuel on the steep slopes by switching off the ignition. Unfortunately whatever he was saving was wasted by driving with the windows open. He was a very good driver considering the road condition. I got a beach chair for 1.5 CUC and plant myself in the shade.
For lunch, I had Lobster pieces for 9.90 CUC at the only restaurant on the beach. Salty and the sides were poor. A salad that tasted like grass, some kind of potato and obviously, rice. For dessert, I had mango fruits in syrup and a coffee for 3CUC more. I wasn't impressed so I wouldn't recommend it. Back to my spot, I had a quick swim and after I was dry enough I tell my driver to take me back to Viñales. Initially, we agreed to leave at 5 pm but I'm sure he didn't mind that we left 2 hours before.
---
Day 17, Day 6 Viñales
After I had breakfast I finished packing and evicted the room in order to be cleaned and available for the next customer. I had to cross off my list so I went to the botanical garden, a small family-run garden with all sorts of plants and flowers. The entrance is free but you are encouraged to leave your comments and a small donation.
I've found a small, local fast food and ordered 3 special sandwich that was not in the menu, pork and omelet sandwich. I paid for all 3 about 2 CUC in CUP. The juice wasn't that good, but for 2 CUP and squeezed on the spot what do you want more? I ate one sandwich and drank the juice and saved two for the road.
I tried to exchange more money for gifts but it was a long line in front of the Cadeca so I went back home. I sat on my chair with the last Mojito that Milaissy prepared for me. Around 1 pm I decided to go out to eat and exchange some money at the same time. £20 gave me about 32 CUC, some for lunch some for presents. Milaissy was right, the food in the restaurant is really bad, or maybe I had bad luck. I've ordered grounded beef for 6.90 CUC and a bottle of water for 1 CUC. I couldn't finish my meal because I wasn't hungry. At 3 pm I said goodbye to Milaissy and to Viñales from the front- right side seat of Papito's car, with the destination Terminal 3, Havana International Airport.
The road was clear, generally, the roads in Cuba are clear because it's very expensive to own a car. After 2.30h I arrived at the airport, said goodbye to Papito and made my way to check-in. I've waited about an hour to check-in, then paid my airport duty 25 CUC, passed immigration and headed towards Gate B-10 to board the Air Europa flight UX 052 to Madrid.
The End.
---
---
---